Stromboli
mummy
This spooky Halloween Mummy Stromboli is great fun to make, and delicious to eat, get everyone in the kitchen and get stuck in!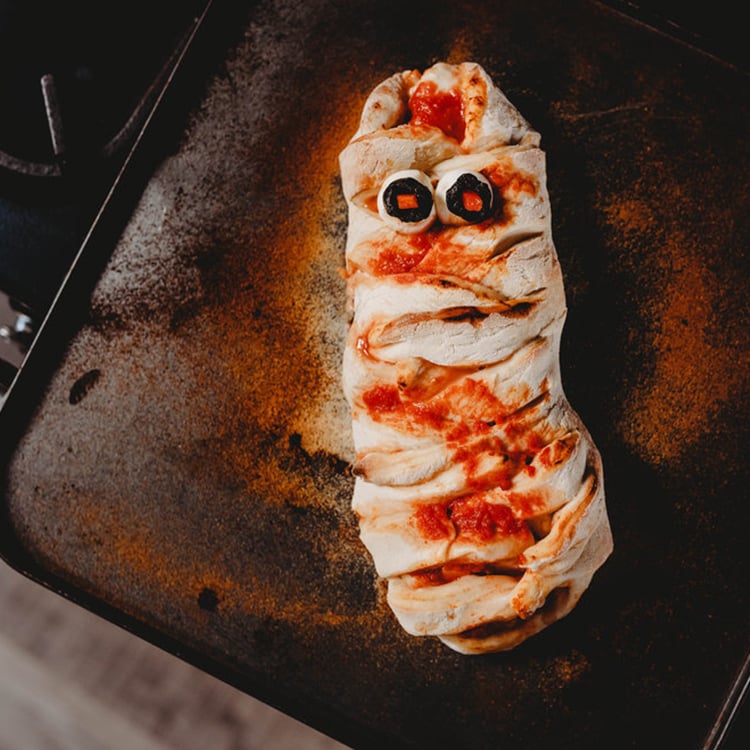 Spooky Halloween Mummy Stromboli
Step 1
Move your pizza base to the lightly floured baking tray, and make small cuts down each side of the dough with a sharp knife, approx. 1/3 of the way in, to create strips of around 2cm wide.
Step 2
Spread a tablespoon of the passata over the middle section of the pizza dough, avoiding the very edge closest to the cuts, then add 8 of the mozzarella pearls evenly across the top.
Step 3
Take the bottom strip of dough and stand it up at a 90 degree angle, then secure it in this position by pushing the corners of the strip into the dough, creating a little lip.
Step 4
Fold all of the strips over the filling, crossing them over at random, sometimes straight, sometimes diagonally so it doesn't look too uniform.
Step 5
Dribble some additional sauce within the gaps and folds, to look like blood seeping out of the mummy bandages
Step 6
Make the eyes! Take the two circular pieces of olive and pop the red piece of pepper (or other veg) into the centres, then place them onto the remaining mozzarella pearls and sit them in one of the folds of the dough so they look like they are peeping out!
Step 7
Move to the hot oven for 10-12 mins or until the sauce is bubbling and the crust has turned golden brown. Remove from the oven and leave to cool for 3-5 mins. As well as preventing burnt mouths, this also helps the toppings to 'set' and means they won't slide when you cut into it! Slice, share and enjoy!
What you'll need…
1x ball of Northern Dough Co Original pizza dough (For extra heat, try our chilli pizza dough )
1 ½ tablespoons of tomato passata
10x mini mozzarella pearls
You can including additional toppings, like roasted veggies or ham, if you like, we've kept this as a simple margherita recipe to appeal to everyone)
1 whole black pitted olive, cut down the length to create circles
1 small strip of a red coloured vegetable (pepper/ tomato etc.) cut into two squares, to fit inside the hole in the olive slices
Don't forget
Always flour your surface so you can easily roll out your dough
Move the dough to your pizza stone/baking tray before you top your dough
It's good to be greedy, but make sure you don't go over the top with your toppings, it'll make your pizza soggy
#doughityourway
This error message is only visible to WordPress admins
Error: API requests are being delayed for this account. New posts will not be retrieved.
There may be an issue with the Instagram access token that you are using. Your server might also be unable to connect to Instagram at this time.